Search Knowledge Base by Keyword
Lapendi
Picture of Notable Member, Insignia, or Map followed by relevant information
Brief Summary
Multiple tribes of barbarians living on the Lapendi Plains of Northwest Katashaka by the GQE portal. The Tribe Mother, Aylynn has a camp by a large hill/mound in the middle of the plains. They hunt openly on the plains and can be defensive of their territory. They are willing to pay coin for proof of killing strong Illithid creatures in the area.
Recent Activity
Killing Illithid beasts for coin and listening in on Lapendi & Mhairshaulk talks.
History
1. Cleared GQE Portal
2. First Contact with Lapendi Barbarians
3. Chemist's Diplomacy Mission
4. Meeting The Lapendi Mother (Aylynn)
5. Crashing Lapendi & Mhairshaulk talks.
6. Lapendi Alphabet Discovered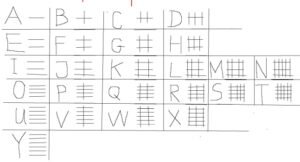 7. ?
Notes
Old Map Pin | New Map Pin  (Link to Miro notes.  Look for 3 dots in the top right of the note to find the link)
Alignment: Lawful/Neutral/Chaotic/Unknown | Good/Neutral/Evil/Unknown 
Aylynn
Mother
Summary of Recent Dealings and History
Notable Member #2
Position
Summary of Recent Dealings and History
"Log quote"
Title of Log linked to log
"Log quote"
Title of Log linked to log
"Log quote"
Title of Log linked to log